If you are planning a trip to India, then the paradise of Goa with the heritage of ancient Portuguese culture and its paradisiacal beaches should be in your plans. This Goa travel guide will help you make the most of knowing how to find the best places to visit, things to do, the weather and the best time to go or how to get around.
Goa is a small emerald on the west coast of India, with 80 miles of coastline, scenic natural beauty, abundant vegetation, attractive beaches, temples and churches with distinctive architecture, colorful and lively parties and, above all, hospitable people with rich cultural heritage.
Indian culture allows Goa a certain tolerance for the many international practices uncommon in the rest of India, such as the crazy parties that take place on the northern beaches.
However, to get to know Goa well, more than the parties, you can find plenty of history and culture and nature tantalizingly accessible in any part of the region.
Conquered by the Portuguese in the early 16th century and returning to Indian ruling only in 1961, the whole region still retains the Lusitanian air in almost everything you see, from the architectural relics to even the names of the shops that have been around since that time.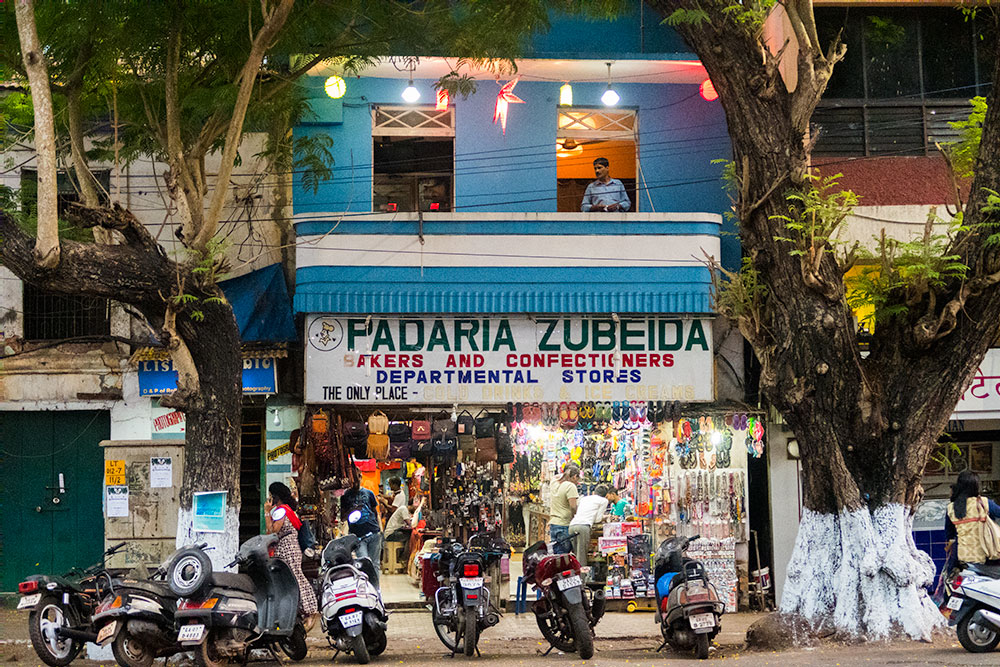 If you are looking for an excellent mix of colonial and modern charm, rich in history, cuisine and remarkable culture, then look no further, Goa is your dream destination.
In Goa, you will be able to seek to dive in its blue waters or to experience the old city of Panaji, or even a crazy party of trance in the beaches to the north. It all depends on what you are looking for, as Goa has a lot to offer, for all kinds of tastes.
Brief History about Goa
Although Goa is predominantly known as an inheritance of Portuguese colonization, its history goes back to a much more distant past, with vestiges of conquests mixed with Hindu folklore.
The history of Goa comes from the Mauryan Empire, in the III century BC. For the next 700 years, Goa was administered by various dynasties, such as the Shillaharas, the Kadambas, and the Chalukyas.
Until 1312, Goa was controlled by Muslims, at which point it began to rise as a critical landing site for merchant ships.
By the end of the XV century, with the spread of the sea route to India by Portuguese discoverers, including Vasco da Gama, Goa became the perfect base for the Portuguese, with the aim of gaining control of the Orient.
The Portuguese reign in Goa lasted about 450 years, starting in 1580 and ending in 1961, with the expulsion of Portuguese troops from India.
Much attributed to the wealth gained through the exchange of spices, Goa began to flourish for its best moment. It has become the largest city in the East, with more than 300 chapels within the town and a population of more than 40,000 people.
Despite its decreasing power caused by the opposition of the British, French and Dutch and also by the lack of capacity of control everywhere in its extensive area, the Portuguese continue to dominate Goa until century XX.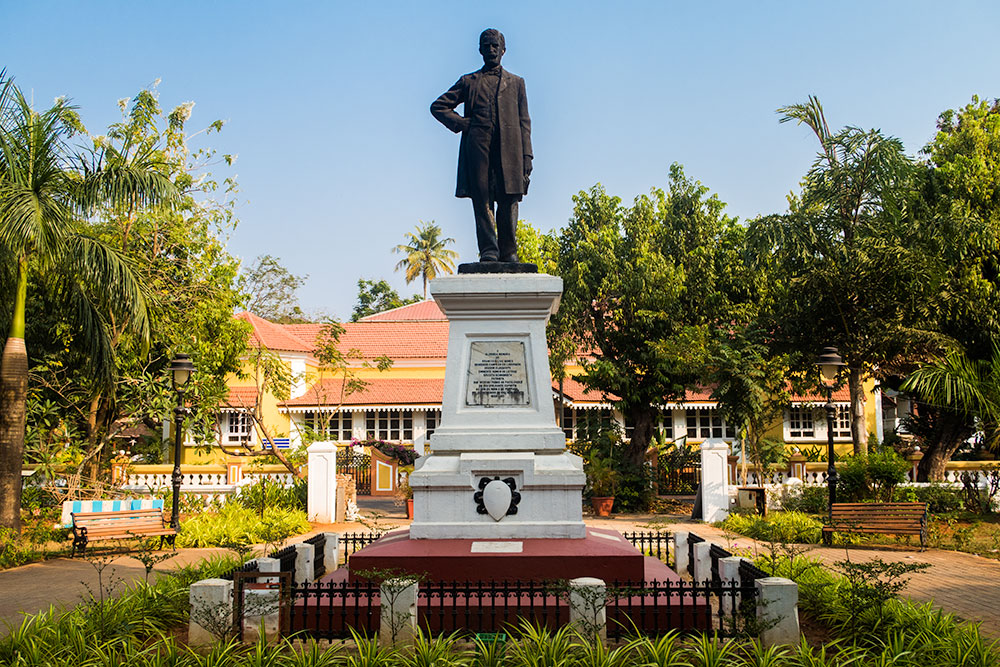 Already in the twentieth century, there was a progression of efforts of the Indian government to talk with the Portuguese government about the withdrawal of Goa. However, this issue was not well accepted by the Portuguese who, at the time, were living the Salazar dictatorship.
On December 17, 1961, Indian Prime Minister Jawaharlal Nehru decided to organize a military invasion and free Goa. The activity ended with the surrender of the Portuguese army and its governor, general Vassalo da Silva.
Being a former Portuguese colony, Goa has a distinct mix of cultures and architecture, attracting nearly 2.5 million visitors a year. While many come as tourists, others venture as pilgrims, attracted by the numerous Catholic and Hindu shrines.
Since this coastal area has been under colonial rule for longer than other areas of the interior, this is where you will find a greater Portuguese influence and also a population mostly Christian.
Things To Do and Places to Visit in Goa
The 105 km of coastline of Goa, surrounded by 29 beaches lined with golden sand, a natural harbor, an extensive network of inland rivers, temples and centennial churches, famous for worship and pilgrimage sites, makes this region a cultural diversity without parallel in the world.
The greatness of Goa lies, possibly, in its strong roots, firmly entrenched in the past with a richly built heritage.
As in all regions of India, the area of Goa is very extensive, making life difficult for tourists, who end up having difficulties in deciding where to start. Most visitors, like you, will arrive at the busy and confuse Dabolim Airport or the central train station of Margao.
Here begins the confusion in deciding whether to go to the beaches of the north, the south or stay right there in the center, knowing that for many backpackers, time is limited.
To help you decide, we suggest you start by understanding Goa, knowing the state capital, Panaji or Panjim. Besides the wide river Mandovi that accompanies the city in a very extensive marginal, you will still have all the charm of the old Portuguese town still intact.
1. Panjim or Panaji City, The Capital of Goa
Panaji, the capital of Goa, is a city marked by its secular buildings, such as the churches of a past dominated by Portuguese culture, where its white colors, perhaps to reflect the intense sun, protecting it from the heat and, at the same time, contrasting with its bright blue and much of the lush vegetation that spreads throughout the city.
Also, a trip through Panaji can be an invigorating break from the endless beaches of Goa so you can have a better feeling and knowledge about the history of this region, having access to numerous symbols from a very recent past.
Such as the Church of Our Lady of the Immaculate Conception, the most visible symbol within the city, with an imposing location, as if it kept a protective eye on the beautiful houses that were located around it.
Inside it is possible to attend regular ceremonies spoken in the various languages that have marked this city: English, Portuguese or Kongo, the local language.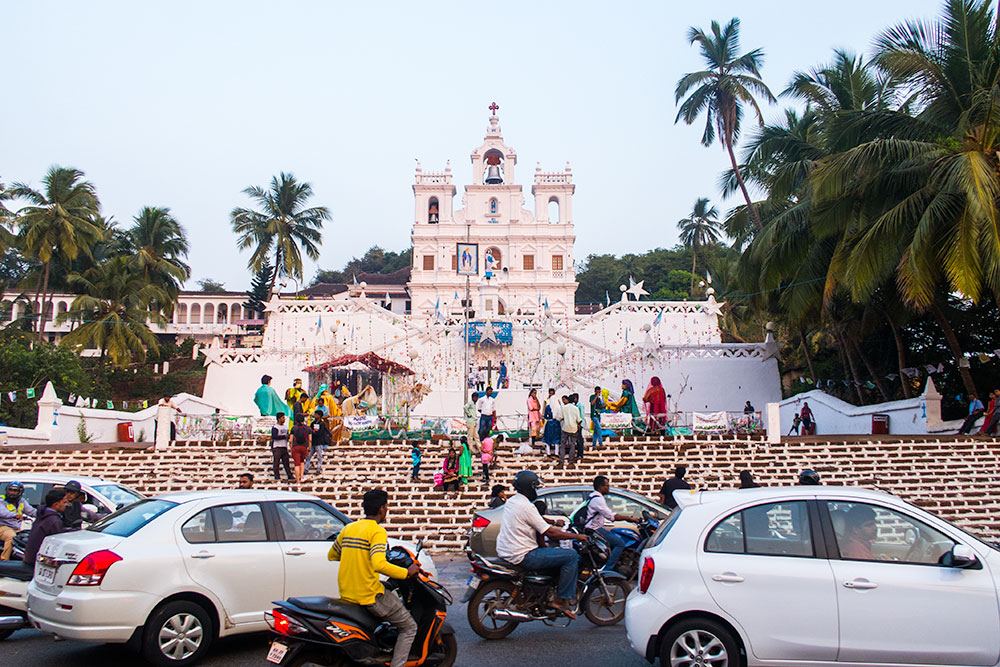 Just nearby you have the Old Portuguese quarter of Fontainhas, a beguiling region west of Pato, one of Panaji's liveliest zones. This exciting quarter of the town is fixed in by the Ourém Creek and the Altinho Slope.
Fontainhas was inspired by the old part of Lisbon, Bairro Alto, with the same kind of streets and houses. Spending some time in this part of Panaji is like entering in Portugal, on its old neighborhoods.
But Panaji, the capital of Goa has much more to offer, as the numerous galleries, museums, and libraries where you can visit and get to know the history of this city better.
You will find in this article all things to see and do in Panaji and other information such as where to sleep and even some restaurants that you can try.
2. A trip to Old Goa
To get an even deeper insight into the history of Goa, you must visit the ancient capital of this Indian state – Old Goa.
Velha Goa was the first Portuguese capital in Goa until it was attacked by pests, forcing the Portuguese government to be transferred to Panaji.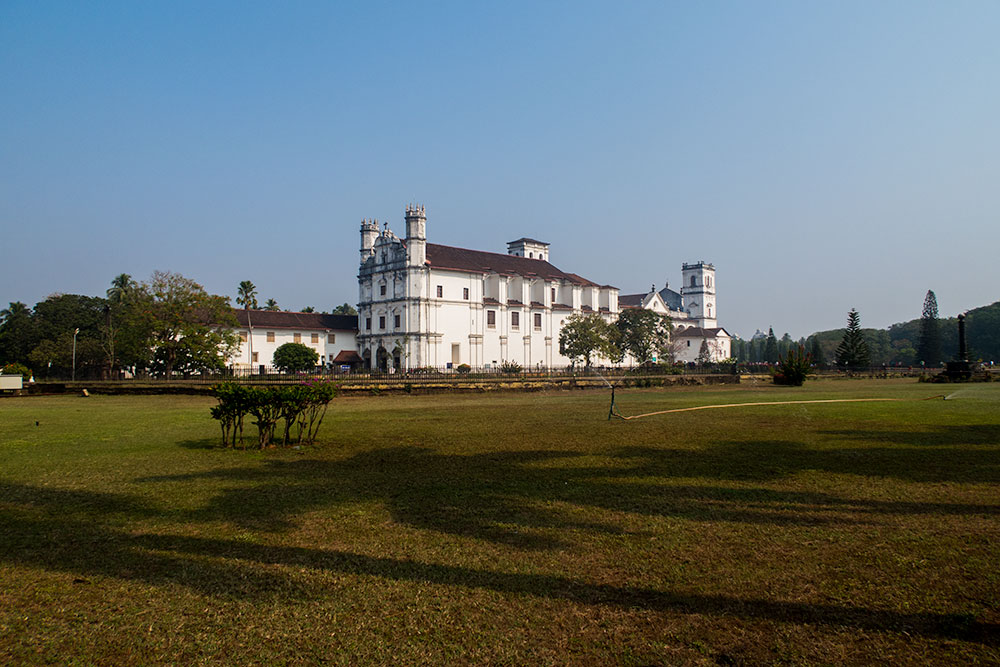 There you can visit the old Catholic buildings, such as the Basilica of Bom Jesus, the Sé Cathedral or the Cathedral of Santa Catarina.
Old Goa is a perfect place to find religious and secular art, both in modern art museums and in Christian art museums.
Remember that the Basilica of Bom Jesus is still an active church so you will find many followers of the Catholic religion in the area and, if you are lucky, you can even catch some ceremony.
You can see all the information about the old capital of Goa in the article about the current capital, Panaji.
3. Best Beaches of Goa
Goa has many tourist attractions like forts, churches, waterfalls or caves. However, what most tourism attracts to this region is undoubtedly its long and beautiful beaches.
Located along the southwest coast, Goa is home to some of the most impressive beaches in the world, and where you can take trips along the coast, by bike, right next to its crystal clear waters and sparkling sands.
With miles and miles of long beaches, Goa is the ideal place to soak up the sun, ride a water bike, do some exercise or lie down and lose yourself in this exotic nature.
Goa has always been a great vacation spot, attracting all kinds of tourists, some looking for a place to spend a few days and relax, others go there to experience the best parties that Goa has to offer.
If you are looking for a calm atmosphere, the beaches south of Goa are the most indicated, unlike the northern beaches, known for their huge trance parties.
North Beaches in Goa
a. Arambol Beach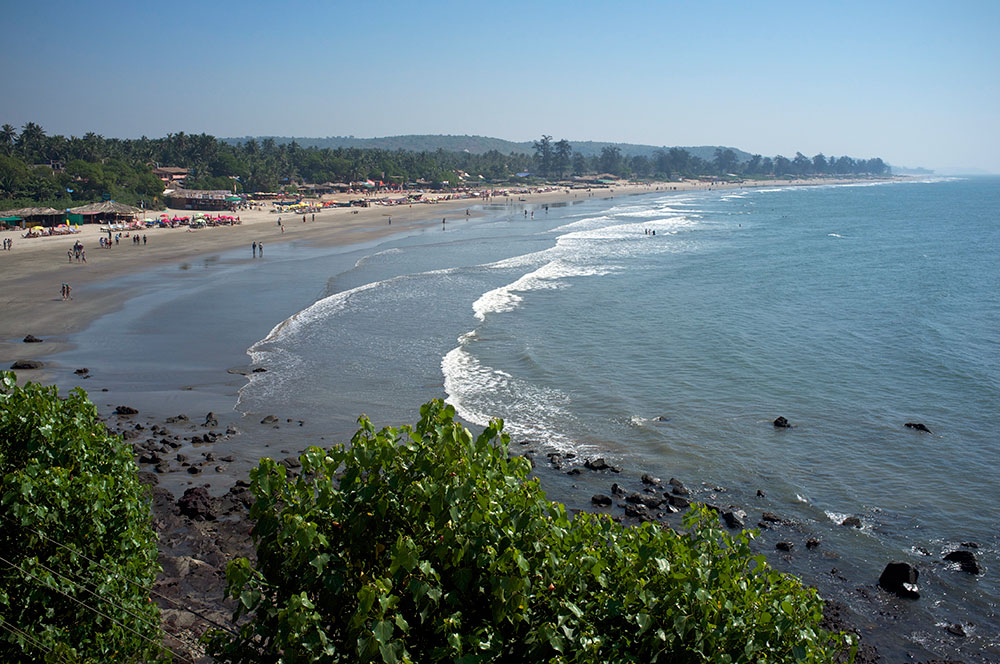 For many, one of the best beaches north of Goa, Arambol Beach has an extensive U-shaped sandy beach with a few rocks and pure natural beauty.
This beach has an extension of 16 km and is famous among the tourists for being a beach surrounded by dense jungle, offering a unique scenery.
It is said that the hot spring located near the Arambol Beach, along with the sulfurous mud around it does wonder to the skin.
The central part of Arambol Beach and its vast stretch of curved sand is a perfect place for families and friends to relax and swim with some tranquility. It is an ideal place for those looking for a quiet beach to spend their day and, at the same time, be very close to the party places.
Near the beach, you can find small shops selling all kinds of clothing, from t-shirts, beach shorts, as well as the typical Goan handicrafts. Walking a few minutes through the street where these shops are located, you will reach the Kalacha Beach.
b. Kalacha Beach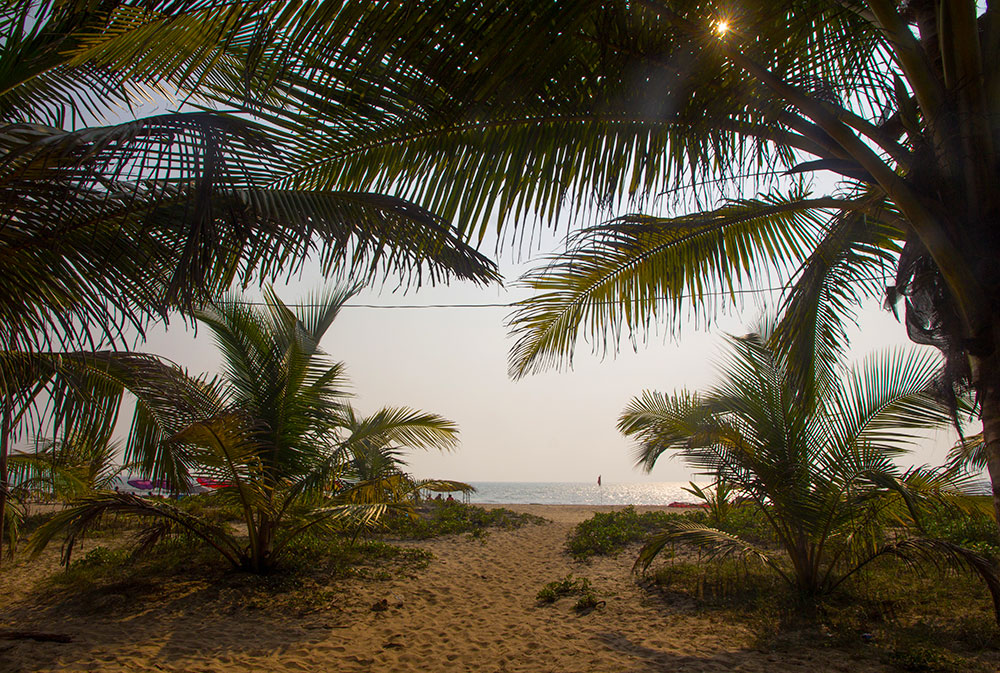 During high season, this beach is the perfect place to practice activities like Kitesurf and Paragliding. Kalacha Beach is also an ideal choice for the ones who wish to stay for a long time in Goa, for its tranquility and immense places to explore, with the utmost patience.
c. Vagator Beach
It is one of the most beautiful beaches in the northern part of Goa and also the perfect location to find the craziest trance parties in the entire region.
The beach of Vagator is divided into two parts: facing the sea, on the right, the Big Vagator or North Vagator Beach and left to Ozran Beach, popularly known as the Little Vagator Beach.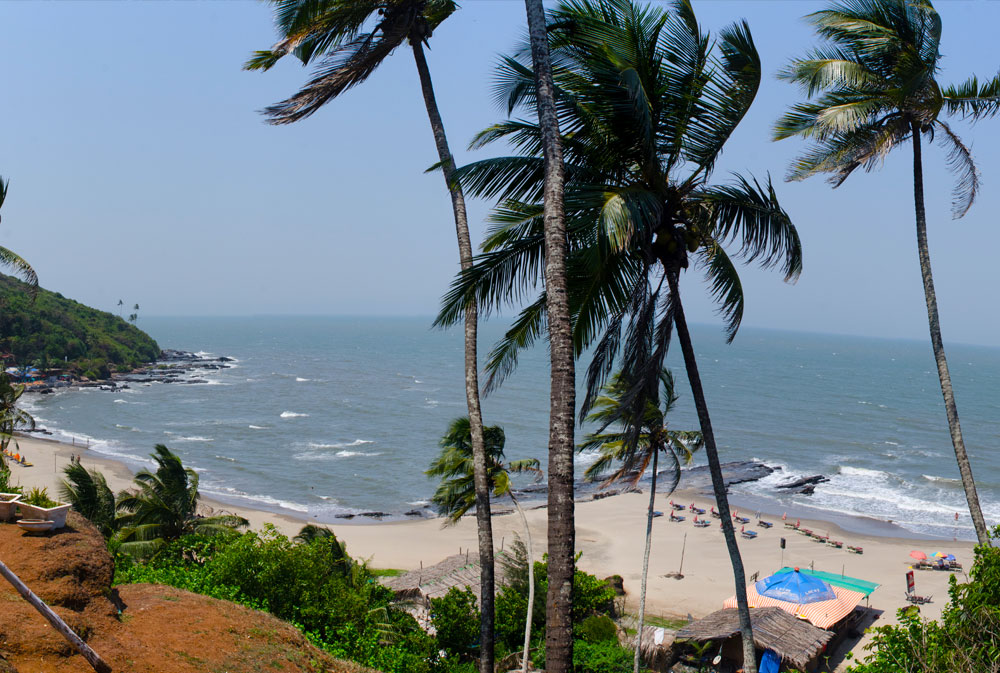 Swimming on both beaches is an option, but remember that there are no lifeguards on the beach. So try to be safe all the time.
The best season in all Goa is between December and January, with the New Year's Eve and Sunburn Festival being the top highlights.
It's when the parties in Vagator reaches its highest level of craziness, with people dancing to trance and psychedelic music played by DJ's from all around the world.
Disco Valley in Vagator, the location for most of the open-air discos, organizing trance parties in Goa since the 1980s.
d. Anjuna Beach
Located in the northern part of Goa, 21 km from Panaji and 7 km from Baga beach. It is one of the most famous beaches for its parties, excellent restaurants serving the best seafood in the area along with a beautiful fresh beer, and the already traditional bazaars.
e. Baga Beach
It is the most famous beach in Goa for Indian tourists, located 19 km north of Panaji and, as opposed to other turbulent beaches around India, there you will find a very calm sea.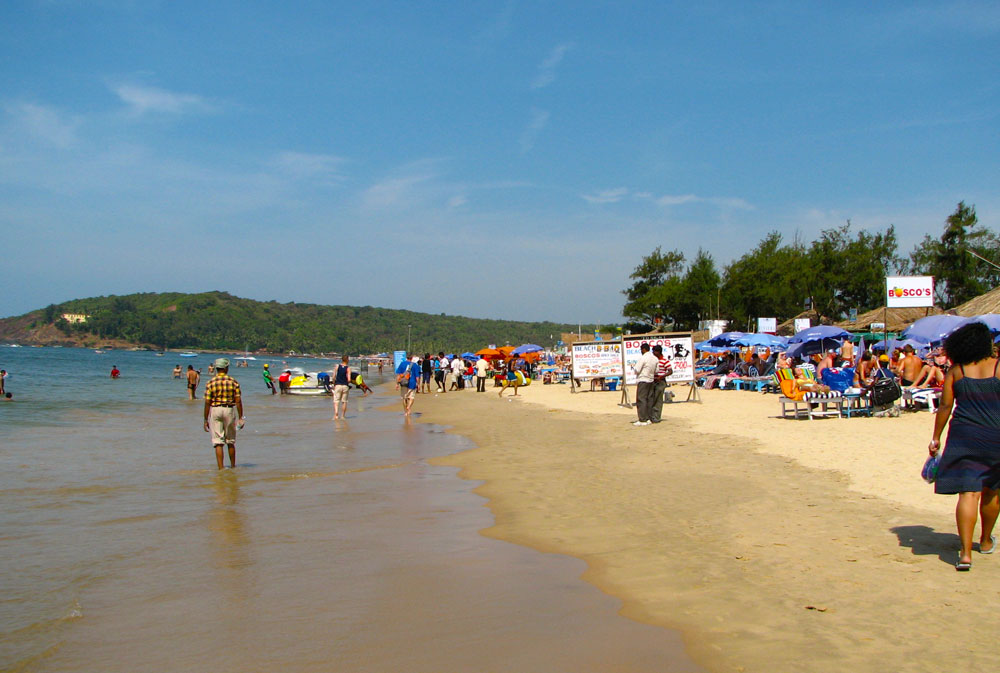 One of the most famous beaches in Goa, considered as an extension of the beach of Calangute, since both are located on the same coastline, about 30 km north of Panaji.
One of its main attractions, besides the beach itself, is the fantastic nightlife. Starting the night at places like Britto's or Tito's, with loud music, dancing, and drinking.
It's also an excellent beach to try some superb seafood, do a spontaneous tattoo at one of the many beach shops, walking through the local bars, relaxing in a spa or even trying to guess the future in one of the many tarot shops.
f. Calangute Beach
Located 15 km from Panaji, it is the largest beach in northern Goa, located between the shore of Candolim and Baga. It is a meeting point for backpackers looking for a great mix of calm and relaxing atmosphere and nightlife.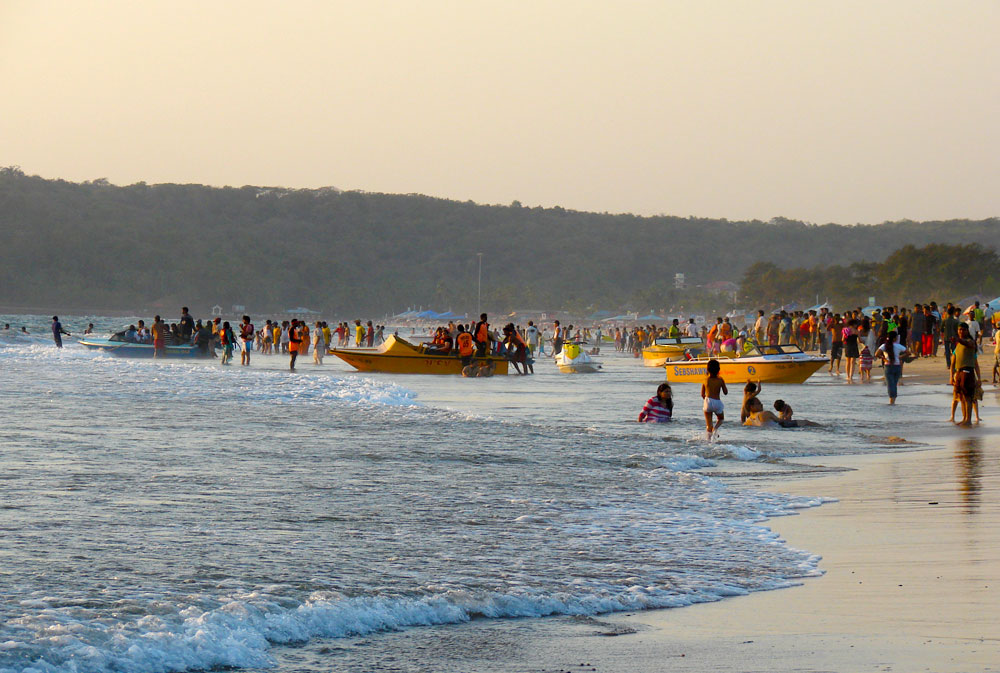 With the most impressive bars, Calangute attracts visitors from all over the world to its crazy and mesmerizing atmosphere, perfect for all party animals.
In addition to the crazy parties, Calangute beach is also the perfect place for water sports such as parasailing, rowing, canoeing, sailing, windsurfing and water skiing.
South Beaches in Goa
a. Palolem Beach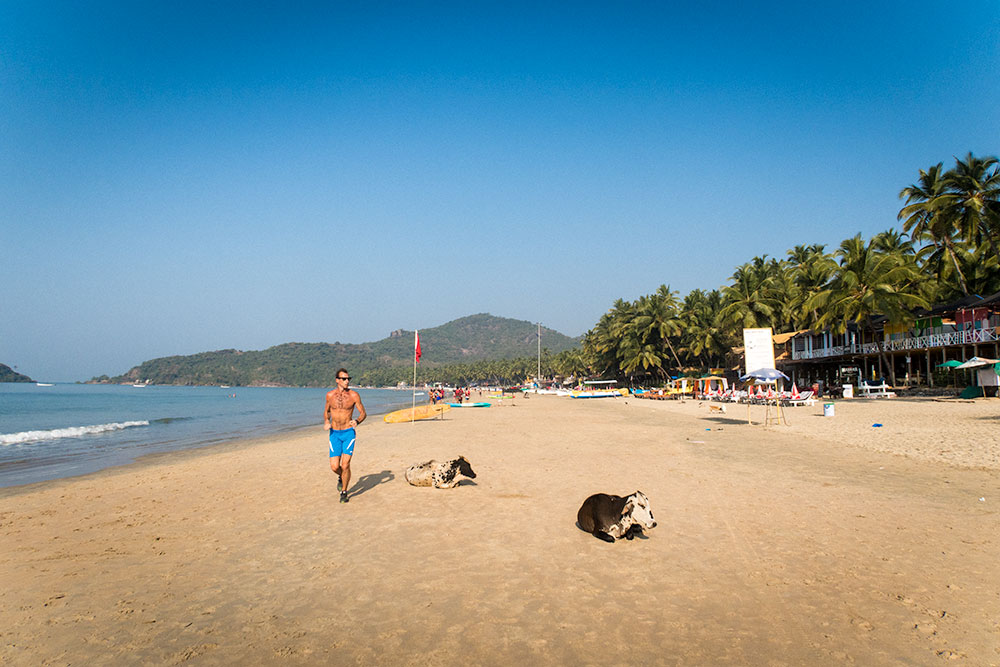 Palolem Beach is one of a kind in all Goa. With a long crescent-shaped coastline with white sand, it is considered one of the most beautiful beaches in all of India.
Surrounded by palm trees, beachfront restaurants, bungalows and a perfect spot to watch the sunset. It is a beach that you will never tire of, no matter how long you spend there.
On this beach, there is not any kind of nightlife except a bar open to a maximum of 00h, or the incredible silent parties that are organized in Palolem.
b. Patnem Beach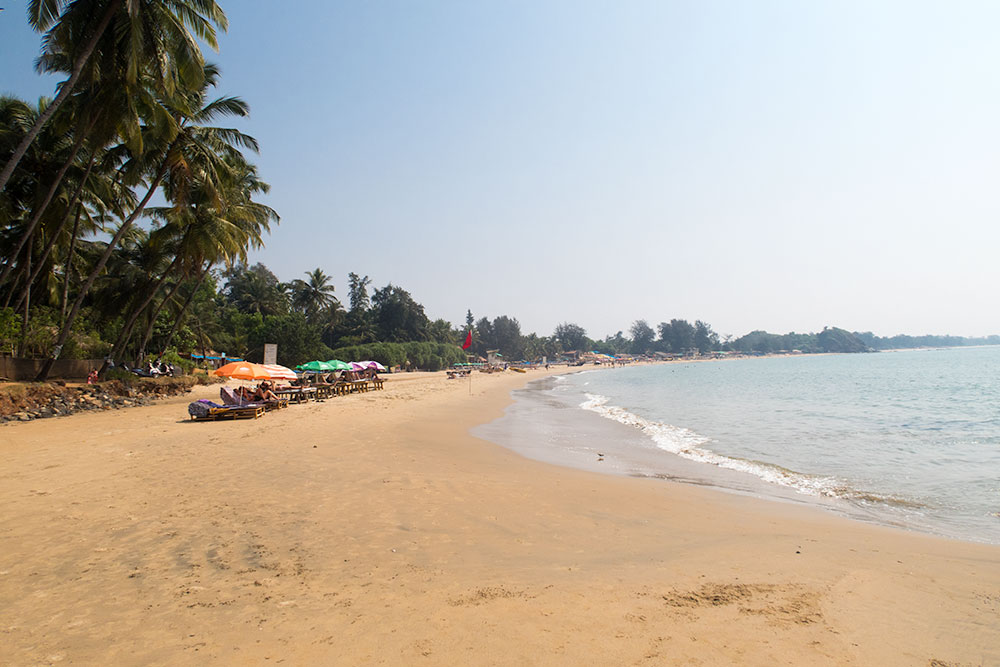 Just a few minutes walking from Palolem, Patnem is the perfect place to relax with idyllic surroundings.
Patnem has the best of both worlds: its secluded location on two cliffs creates a distinct sense of peace, and at the same time, is on a walking distance from the fantastic Palolem beach.
If you are staying in Palolem, do not forget to take a short walk to the nearby beach of Patnem, passing through the small village of Colomb Bay.
c. Agonda Beach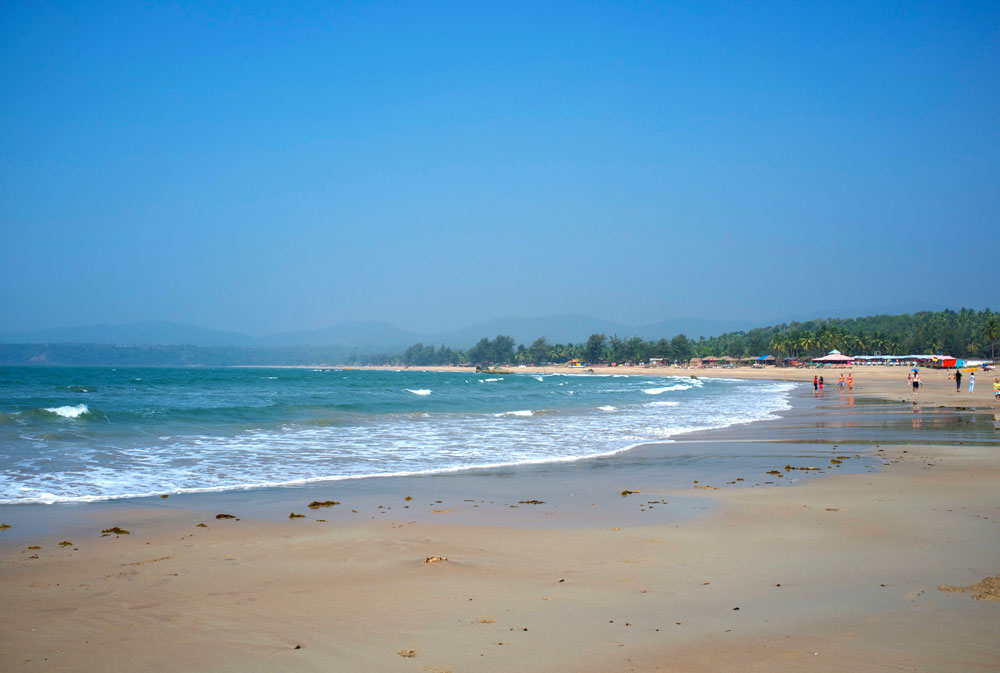 Located in the south of Goa, north of Palolem, Agonda is a sheer treasure. Tucked away from the busiest beaches, Agonda is ideal for those seeking to discover a little peace and tranquility.
The landscapes are delicious, attractive and incredibly simple. If you need to get away from the crowds and unwind, then Agonda Beach is your best choice in Goa.
d. Mandrem, Morjim, and Ashwem beaches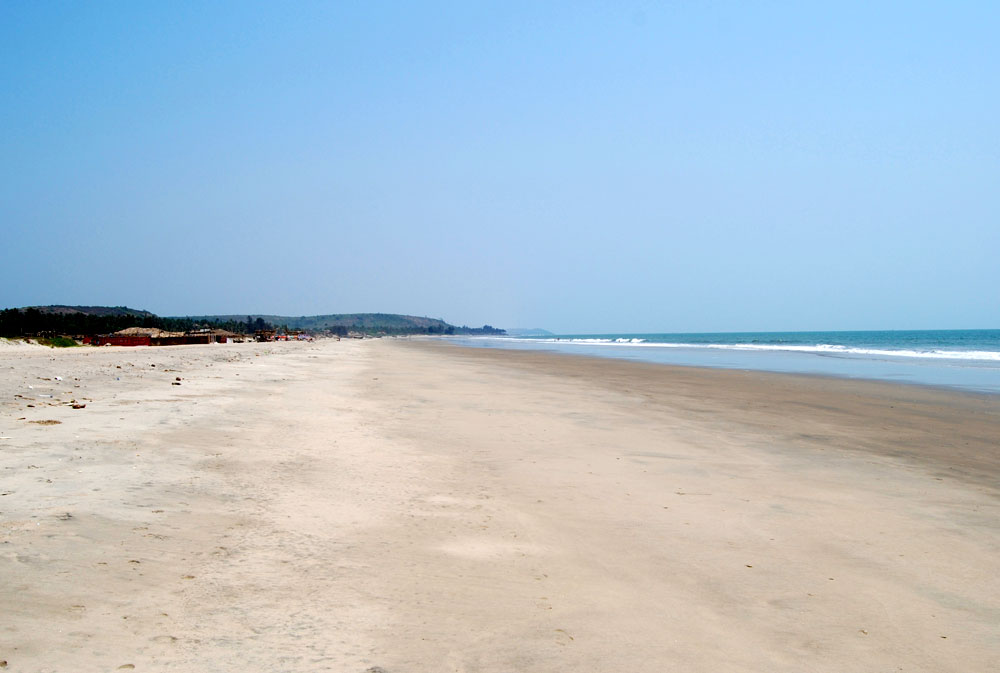 These beaches are known to have much more expensive stays than the common ones and attract visitors more interested in sitting in fancy restaurants, drinking cocktails.
Moreover, they are known for being the beaches where turtles will spawn and, for this reason, are protected beaches. Even if you do not want to stay on any of them, it is an incredible experience to rent a motorcycle, travel along the coast and come to know some of these almost deserted beaches.
4. The Dudhsagar Waterfalls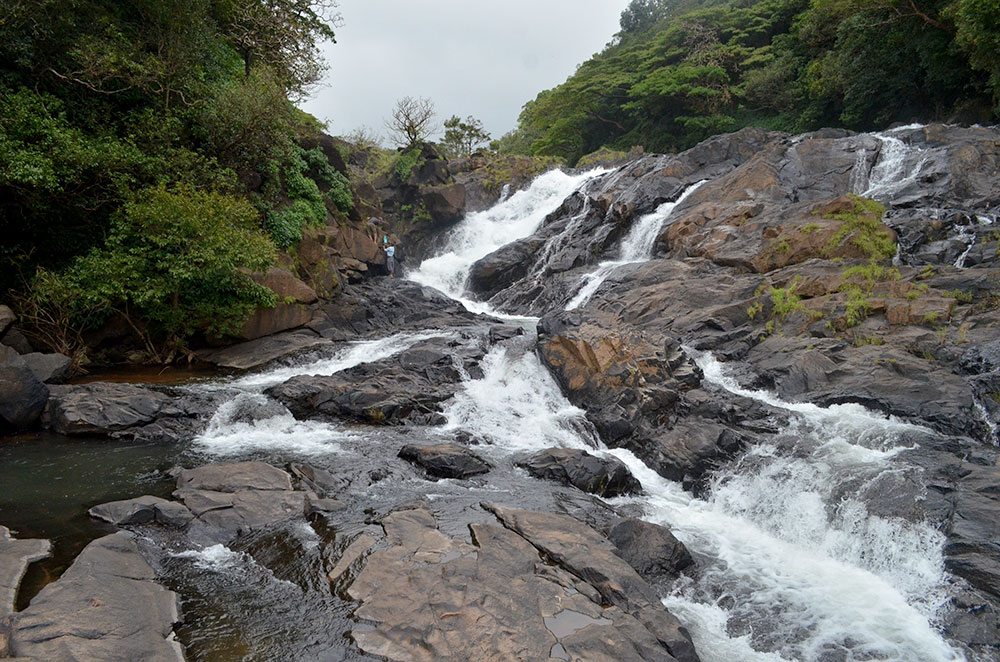 The Dudhsagar Waterfall is one of the great highlights in Goa that is well worth a visit, for the massive waterfall that runs along a rocky cliff covered with trees. There are many excellent spots to see the water cut down the mountain slope.
To get there, you can rent a motorbike, leave in the morning and spend the day there. It's a 75 km journey from Panaji.
If you do not feel comfortable taking the bike, you can always catch a train from Margao to Londa Junction and then take a bus or rickshaw to Kulem (about 3 hours). In Kulem, 2 daily trains stop in Dudhsagar. One at 8:30 and another at 4:30 p.m.
You still have the solution to take a tour to the waterfall and not be limited to the train schedules.
The Dudhsagar Waterfall is not visible over long distances. Only when you are about 1km, you can see it.
5. Fort Aguada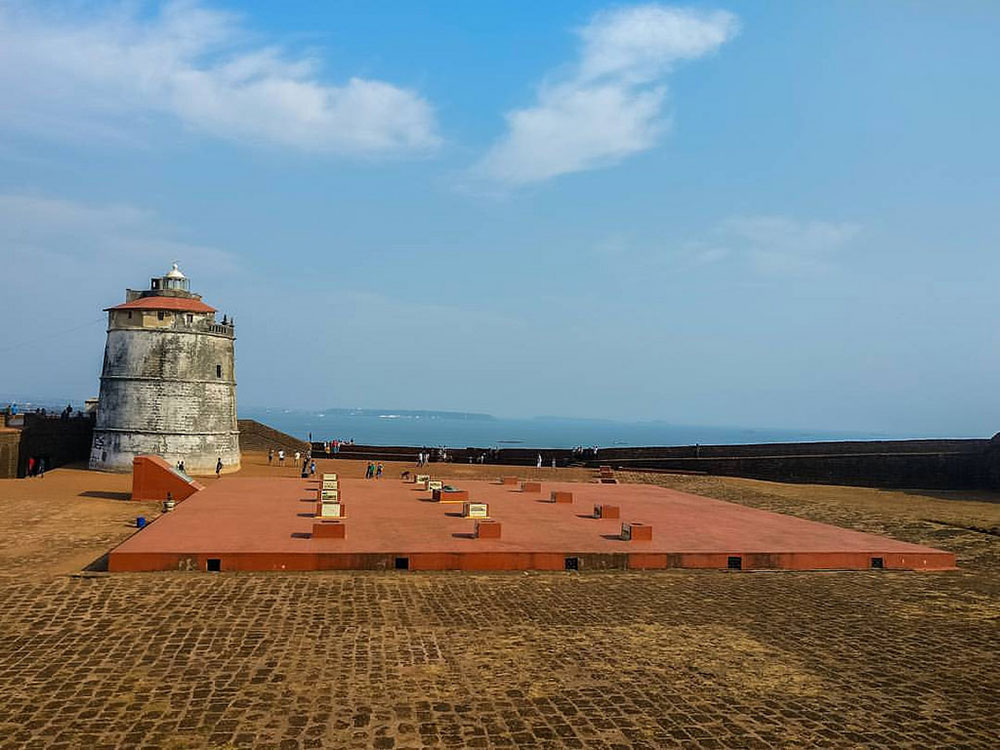 This fort was built during the 16th century by Portuguese explorers and settlers to defend the coast of Goa from the Dutch advances.
It also had the purpose of supplying potable water to Portuguese vessels. The Aguada Fort is the largest in the entire city of Goa, wrapped in numerous stories of wars and defense of the region.
To visit this fort, you can rent a motorcycle and take a trip of 80km from the beach of Palolem or take the journey from Panjim (12 km), by bike or take a public bus.
Warnings and Dangers in Goa
Goa is a famous stop for all backpackers looking for a laid-back, cheap and fun destination.
There is a unique vibe in Goa that attracts many young people looking for parties in a hippie and alternative environment. You can have fun in Goa and savor the beauty and diversity, but you also have to keep in mind all the dangers that you are exposed there.
You must know that although the parties there are crazy times in a paradisiacal destination, with lots of alcohol and drugs in the mix, the drugs are still illegal and even considered to be a big problem in Goa.
Many tourists go to Goa to party or rave, filled with cannabis, hallucinogens, heroin or cocaine.
But all these drugs are illegal in India, and Goa is no exception. Punishment for using, buying, selling, owning or being under the influence of drugs can be severe.
If you are stopped by the police, many things can happen, including having to pay the cops or risking jail time in India.
Although you realize that bribing a police officer in India may be a lesser evil, it will undoubtedly have devastating effects, especially if it costs you all your money and possessions with you.
This may mean that you no longer have money for food, lodging and holidays to shorten the vacation the hard way. Do not doubt that this has already happened, so it is best to avoid such situations.
How to Get In and Away from Goa
While some international airlines have direct flights to Dabolim airport in Goa, it is easier and cheaper to find an international flight to Mumbai, and from there take a bus, train or domestic flight to Goa.
The best way to get to Panjim from Dabolim airport is to take a public bus. You have two options: a bus that goes to Chikalim and from there you can take another bus to Panjim.
Or take the bus to Vasco da Gama, and from there you have many other buses to Panjim or other destinations.
It is not justifiable to take a taxi, as it will be much more expensive. But if you have already booked a room, you can always ask if they provide a free transfer from the airport to the hotel where you are staying.
If you come from other regions of India, the train may be the best alternative. You can choose to leave in Margao and then take one of the numerous buses to Panjim or any beach to the north or south. As the route to Goa is very crowded, it will be better in high season to make the reservation online and thus avoid having to wait another day to get a train ticket.
By plane – Dabolim Airport operates several national and international flights to connect the city to some other major cities of the country and some global cities.
Dabolim Airport is about 30 km from the capital of Panaji and is located near the port city of Vasco da Gama.
By Train – The Konkan Railway makes Goa readily accessible to major cities in India such as Mumbai or other regions of northern India like Delhi as well as to more southern regions such as Kerala.
Goa has two major railway stations, Margao and Vasco-da Gama, both located in the southeast region of the state. In addition to the two central stations, trains usually stop for a few minutes at some smaller stations in Goa.
By Bus – Goa is connected to all major cities of India via national highways, with many public and private bus companies connecting to most of the neighboring states of Maharashtra and Karnataka, to cities like Mumbai or Hampi.
The central bus station in Goa is located in Panjim (near the Fontainhas district), Margao (near the train station) or Mapusa. These stations have regular bus services linking to cities like Mumbai or Pune.
By Sea – Goa also provides transportation services by boat from Mumbai to Panaji, being a good experience and something exciting for the Indian seas.
How to Move Around in Goa
Traveling through Goa is reasonably straightforward. There are numerous means of transport, such as public buses, motorcycle taxi, typical rickshaws and many private buses as well.
Goa has fantastic public bus links that can take you to everywhere you need, such as connecting Margao Railway Station to Panaji, the southern and northern beaches, all for a low cost.
For cheap travel, the ideal even is the public bus. The motorcycle taxi can be a very different and fast alternative. However, if you carrying your backpack, it will be very uncomfortable.
If you love traveling on two wheels, Goa is the perfect destination to rent a motorbike and cruise the coast, knowing the main beaches and some other historical destinations. If you are in Goa for a short time, this is your best alternative.
Climate and the best time to visit Goa
You may have heard that Goa is practically a destination that can be visited all year round. Regardless of the month, it is always exciting to visit Goa.
Different seasons bring different colors to Goa. Each color has its charm and comes with a series of activities each month, including the monsoon season.
However the best time to travel to Goa is between November and March when the weather is dry and comparatively cool (but always hot) when the sea is calmer, and you have all the amenities available from beach resorts and restaurants to cabins of beach and parties.
Spring (Off Season) – February and March are good months to be in Goa, with beaches gradually becoming more and more empty of tourists and prices dropping considerably.
Summer – From April to June, the climate becomes progressively hot and humid, and some beach places begin to close and prepare for the monsoon.
However, it is the ideal time to enjoy incredible resorts that offer great prices at this time of year, and sometimes you can even have beaches just for you!
Monsoon season – Although Goa enjoys a mild and warm climate all year round, during the monsoon season (June to September / October) you have to take extra care as it will be with few tourists and unsafe beaches with a hectic sea. Almost like a clock, within the first ten days of June, the rains begin.
During the monsoon, all beach huts are closed and removed. Only hotels, guesthouses, houses or apartments are open for tourism.
However, the rainy months from June to September continue to have much to offer, providing all the security and happy moments, to enjoy Goa in a very different tone. The vegetation is even greener and lush with planted rice paddies and wild, stormy seas.
October can also be a great time to visit the city of Goa. Already relieved of the monsoon, with a landscape still very green and mainly with very little tourism and low prices. However, you should expect some rain occasionally.
Winter (high season) – December and January are the ideal and most popular months to visit Goa. Almost 100% free from rain, with pleasantly chilly mornings and nights and by day a warm climate, great for going to the beach. It is a destination and economic season for those who want to escape the cold weather of their country, and spend Christmas and New Year in much warmer weather.
Even though the Goa "scene" has slowed, some of the major music festivals are now common at this stage of the year, as well as the best outdoor parties and great DJs in the clubs.
The Goans, be they Christians, Hindus or Muslims, adopt Christmas, decorating everything, while local school children sing Christmas carols for tourists on the beach.
Having a seafood lunch under the tropics sun is a different and delightful way to get into the Christmas spirit. The New Year is not so different in Goa than anywhere else in the world except that you will be feasting with the warm sand between your toes under a sky full of fireworks.
As for the crowds, it is the busiest time, so the leading resorts in Goa tend to get crowded and some of the beaches, especially in the north, get very overcrowded.
South of Goa, you'll still be able to find many more peaceful and less crowded housing options.
How Many Days Should you Spend in Goa?
There is no correct answer about the number of days to stay in this little piece of paradise.
Between the ancient capital, calm and relaxing beaches of the south, but also experience the craziest north, there are many things to see and do so you will want to stay there as long as possible.
At the very least you should try to stay in Goa for five days, dividing that time between the beaches and Panaji (including Old Goa). But if you can stay longer without affecting other destinations in India, then you should take advantage.