1. Summary
Visa on Arrival: no;
Where you can get the Tourist Visa:
Documentation

Passport valid for more than 6 months at the time of application;
2 white papers free on your passport;
2 recent photos facing front;

Price: around $60;
Eligibility: 180 days (starts on the first-day issue);
2. India visa policy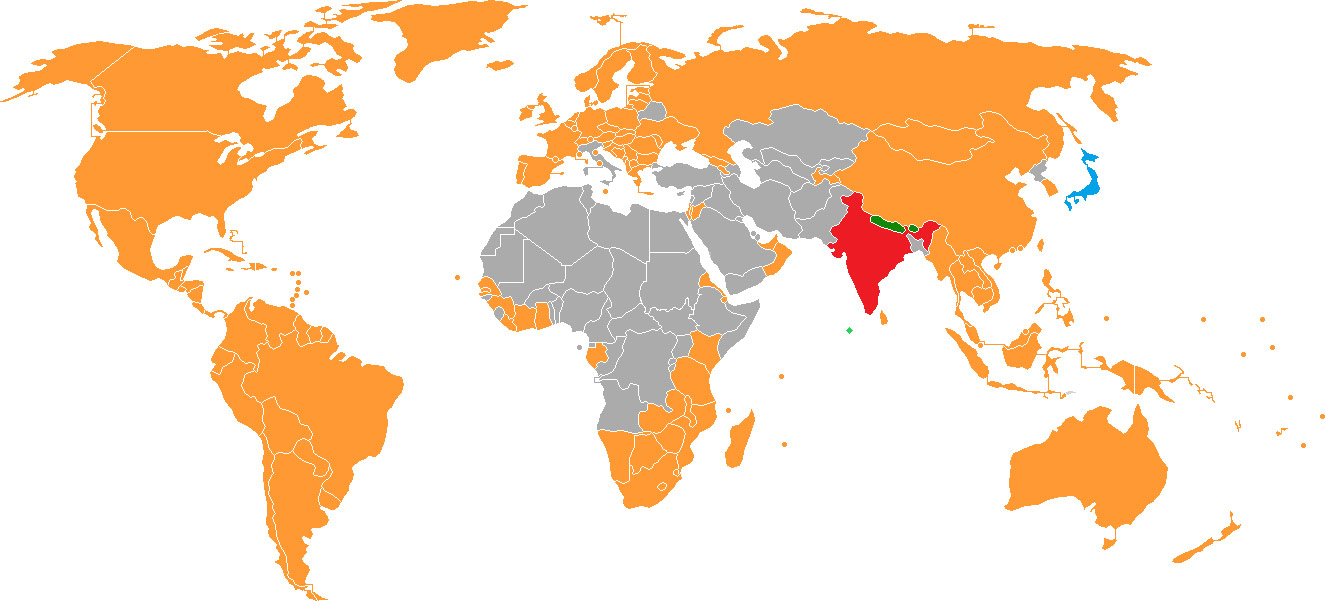 VISA
Unlimited
90 days
Visa on Arrival (30 days)
E-Tourist Visa (30 days)
---
3. India Visa for US Citizens
Applying for India visa for US Citizens is not as simple as in many other countries, just because there is no Visa on Arrival for most of the nations.
Still, you can apply online (only if you are entering through one of the main airports) or through any Indian embassy.
The price for the Tourist India visa application is $60, and allow you to stay there for 60 days.
If you plan a visit to other countries like Sri Lanka or Nepal, you could and should ask for a multiple-entry visa upfront, since you cannot change or extend your visa.
The India visa application gives you eligibility for 180 days, starting on the first-day issue. So, imagine you are planning 30 days traveling or less, you can get your visa 1 or 2 months before.
First of all, remember that you must have:
Passport valid for, at least six months (at the time of application)
Two recent photos facing front
Photo page of the passport (where is your personal information)
Two free white pages in your passport
Excluding Visa on Arrival (not available for most of the countries), like was mentioned above, you have two ways for applying:
India Visa Application Online (eTV)
The best way to apply for India Visa for US Citizens is online with the e-tourist (eTV) visa for India.
You can apply on this website, with the minimum of 4 days before getting there, and a maximum of 30 days.
When you apply for the eTV, an application ID is created. Keep it if you need to check the status of your request.
If you get more than three unsuccessful attempts to pay, your application ID will be blocked and you will need to restart all process from the beginning, generating a new application ID.
When you manage to apply and pay the Visa, you must wait around 4 hours, until your payment status updates.
The eTV is valid when entering in the main Airports in India, like Delhi, Mumbai or Kolkata.
Apply for India Visa for US Citizens through Embassy
Another way is by going to an Indian Embassy or send all the necessary documentation through postal mail. You still have to fill the application online, also in Indian Visa Online.
After you need to go to the embassy with all the documents needed, like passport, photos, form, and deliver it. But all of this is a waste of your precious time. You should do it online.
4. India visa extension
Visa extension in India is not a very simple process. They only give that in an emergency situation.
If you are in a situation that you need an extension, you will have to call the Foreigners' Regional Registration Office, and explain your situation.
5. Transit Visa
If during your journey you have a layover in some Indian airport, you can just stop by and visit the closest city of the Airport.
To have that experience, you can apply for a Transit Visa.
The same Transit Visa is eligible for 15 days, so, if by any chance, you stop more than one time in an Indian airport, you can get out of the airport and stay for 3 days each time.
To apply for a transit visa, it's similar than the tourist visa. You can do it online or through the Indian embassy.
This stopover can costs from $13 to $53, depending on your home country. You must also have evidence, a confirmed air ticket for transit journey through India.
You still need all the documents (passport, photos, and the visa application), besides the travel evidence, to have a three days glance of the Indian culture.
Depending on the price you have to pay, this can be an interesting opportunity, in case you never step foot in India.