Connaught Place is the largest open market in New Delhi, with many modern shops, with big brands, high-end restaurants, but also a place with historical shops, like the oldest pastry in Delhi, Wenger's, vintage cinemas to catch a Bollywood movie and, not forgetting the Palika Bazaar, the place where you can buy anything for a few bucks.
All this contrast is what makes Connaught Place one the best places to visit in Delhi, contrasting with the old customs, traditions, and shops like you see in Old Delhi's Bazaars.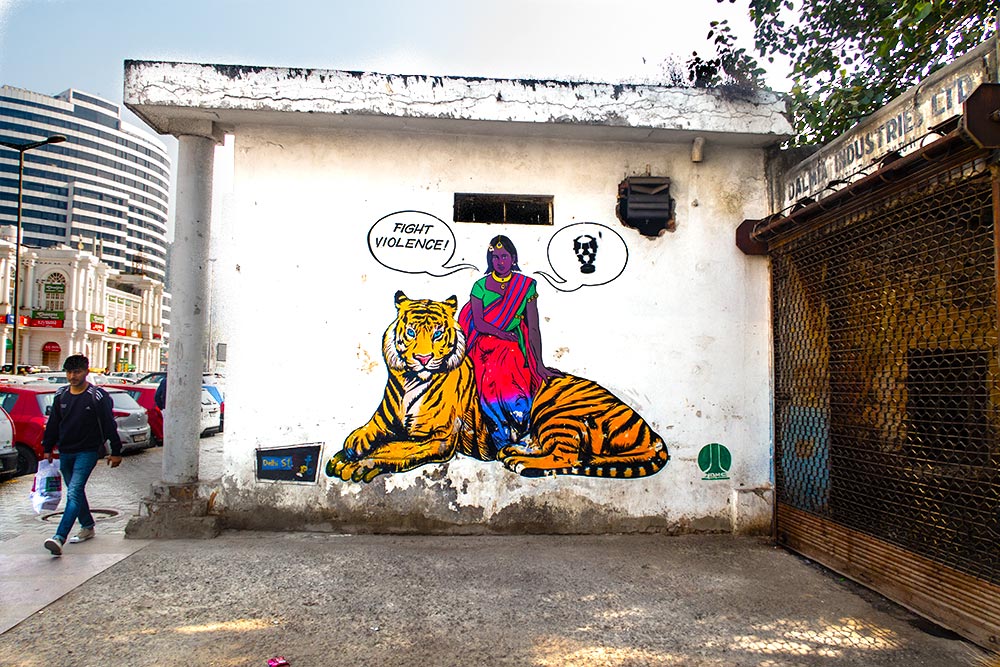 Built during the British Raj in 1929 and named after George V's uncle, the Duke of Connaught, Connaught Place is a circular maze, starting from the Central Park, where you can see a flag from India, big enough to see from a far distance.
Besides all of this things you can see and do in Connaught Place, there are many ruins, temples or shrines that you can visit on the neighborhood of this area, most of them, on a walking distance.
Its location is 2km from Chandni Chowk or Paharganj District, a 20m walk from one place to another or if you prefer to take the subway. Make sure you get out in the Rajiv Chowk metro station.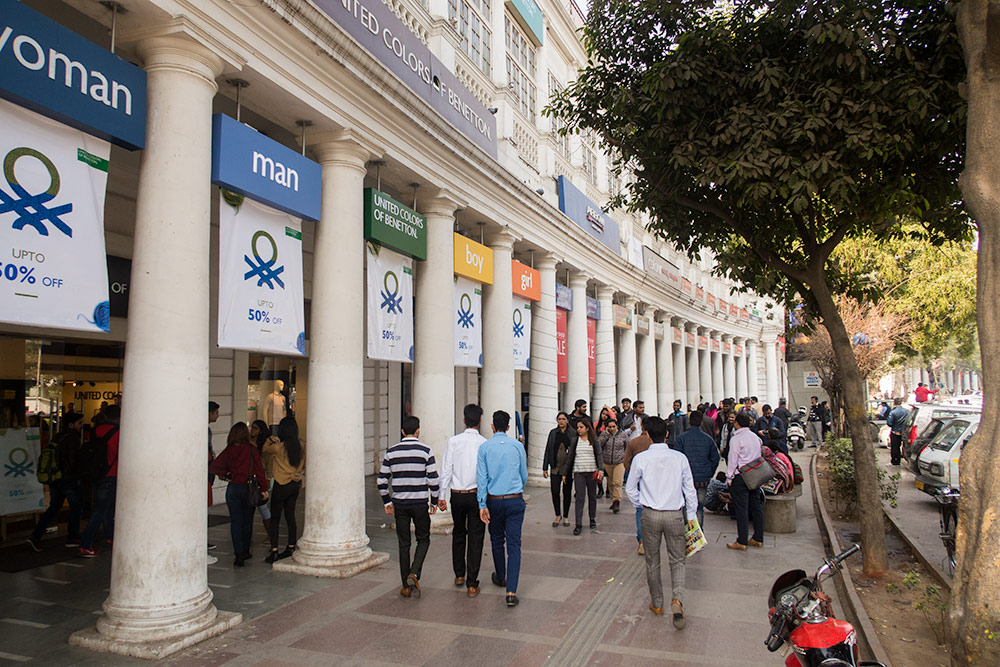 It can be confusing to be there in the beginning, but after a while, with some references memorized, it's easier. Walking around the interior ring, where is the Central Park can take around 15 minutes.
At night, the shops illuminating the sidewalk with their strong bright lights, creating a high contrast between the bright areas and the dark ones, closer to the street.
In Connaught Place and surrounding area, there are many things for you to see, so take your time there, and get to know some of the modern artists in India, Vintage Cinema Theaters and some fantastic places to relax, drink a shake and eat some of the most excellent Hindi pastry at Wenger's.
Here are some cultural places that you should not miss in Delhi.
Places to Visit in Connaught Place
1. Agrasen Ki Baoli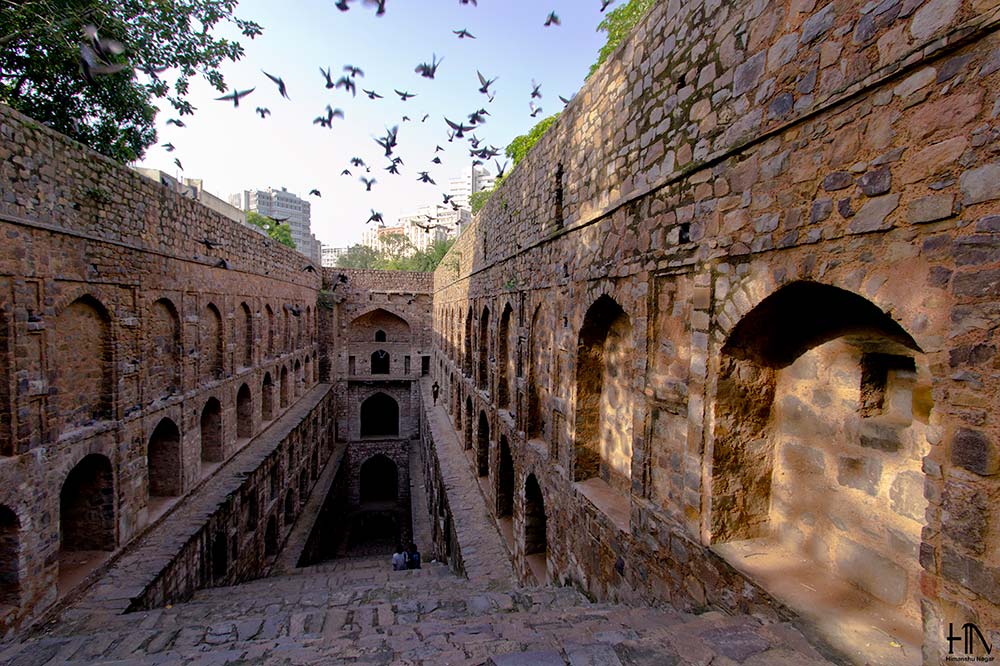 There is no exact year of when the monument was built nor who was responsible, only a reference to the XIV Century of its rebuilt.
It's an incredible structure located on Hailey Road, very near Connaught Place, with a 60-meter long walk in over around 100 steps, heading to carved chambers and passages.
A long time ago, it used to have water inside, an image immortalized by the Magnum photographer Raghu Rai, with a man jumping and others swimming inside.
It's believed to be a haunted place by the ghosts of the past.
2. Hanuman Temple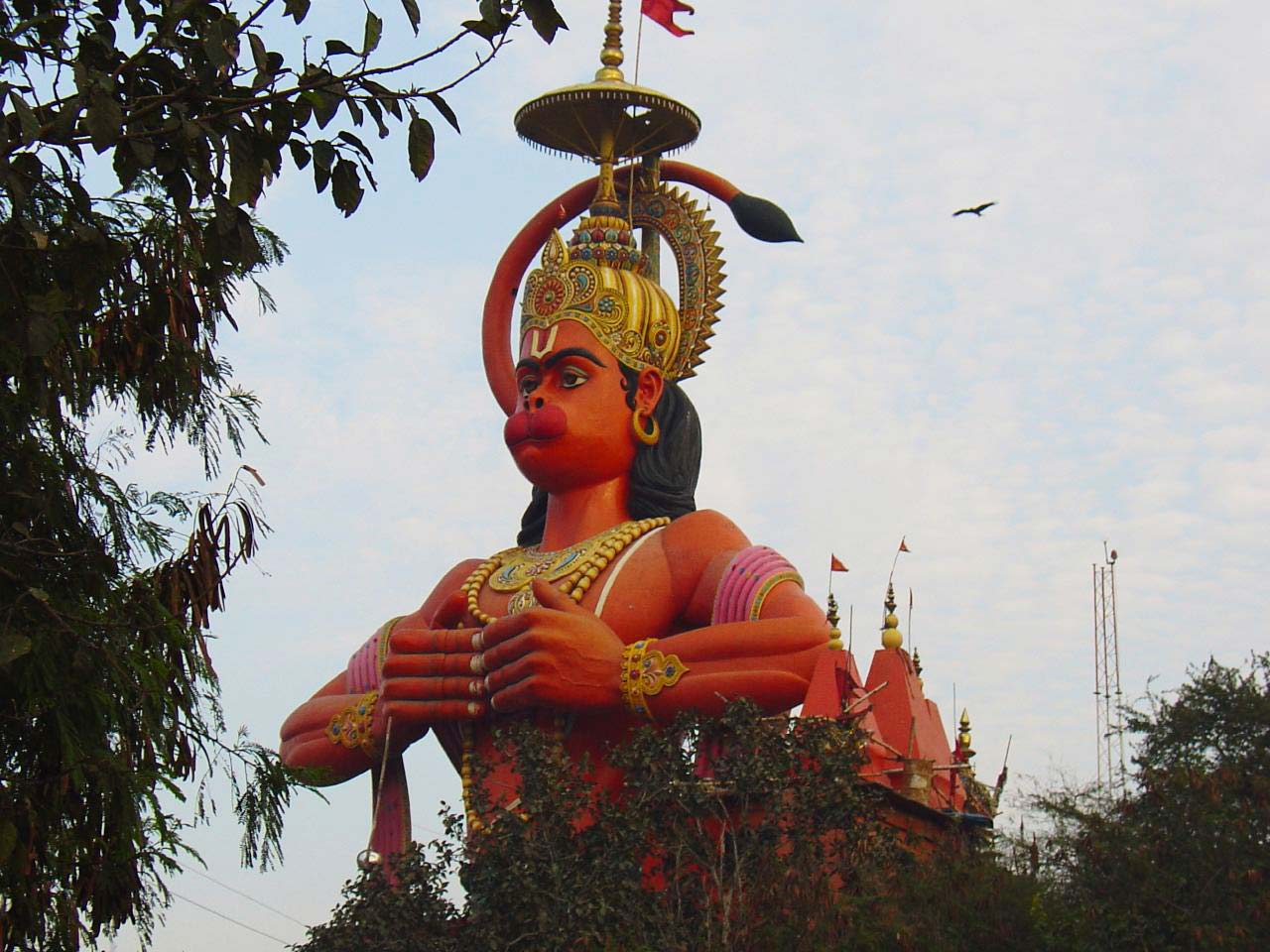 This temple is honor Hanuman, the Monkey God. It's a place where you can witness worshippers with prayers, chants and delivering some offerings to Hanuman.
3. Gurudwara Bangla Sahib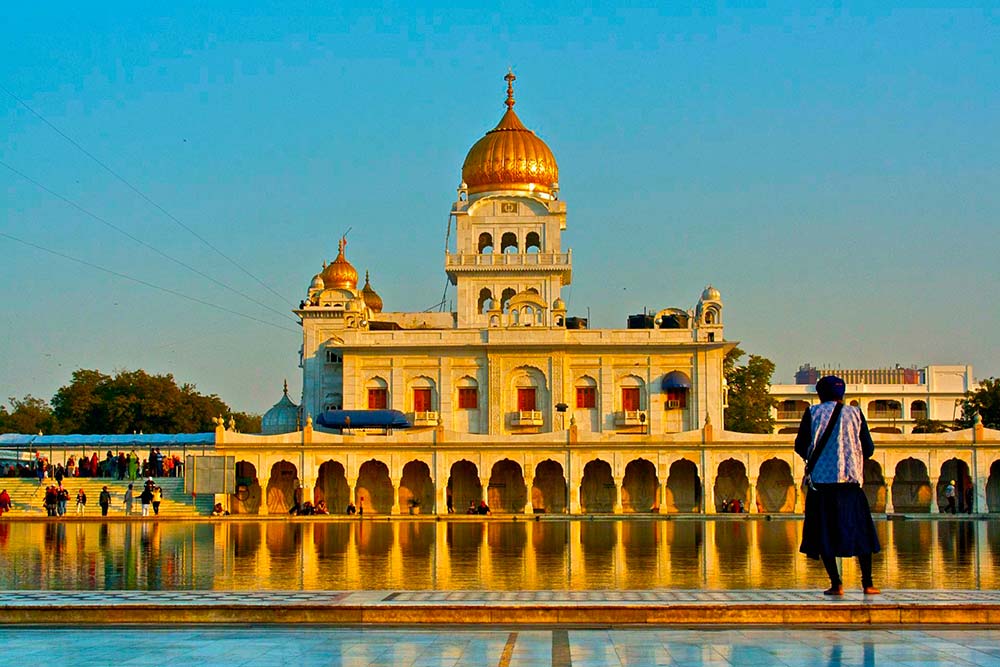 It's the most important Sikh house of worship in Delhi, built in 1783, but as a small shrine, evolving in the following years in a big complex, with a pool inside (Sarovar).
It's an incredible experience, not only to observe this unusual decor but also to spend some time, strolling while listening to Hindi folk music.
4. Jantar Mantar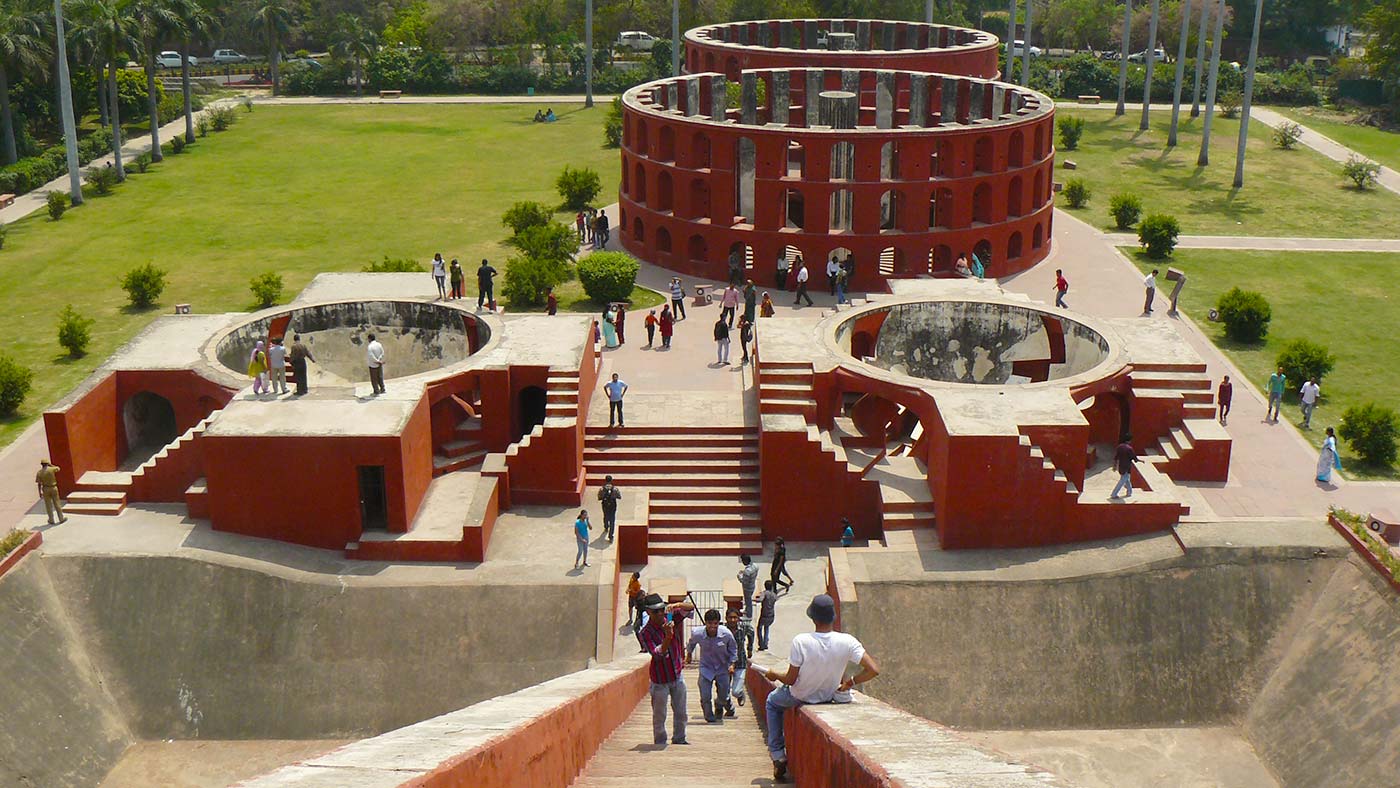 Way before clocks appear, the sun and the moon where the best helpers to tell the time and date to all people.
Janta Mantar was built by Maharaja Jai Sing II of Jaipur around the 18th century, together with other four around India.
It's a prominent astronomical instrument located right in Connaught Place, where you can witness some of the most accurate tools to check the time and date long before the technology era.
5. Vintage Cinemas
Bollywood cinema is well known all over the world, and there is no better place to see a movie than in Connaught Place.
Theatres like the Rivoli, Odean, Plaza, and Regal exists since the 40's. In fact, Connaught Place appears in the beginning as a cinema zone in Delhi.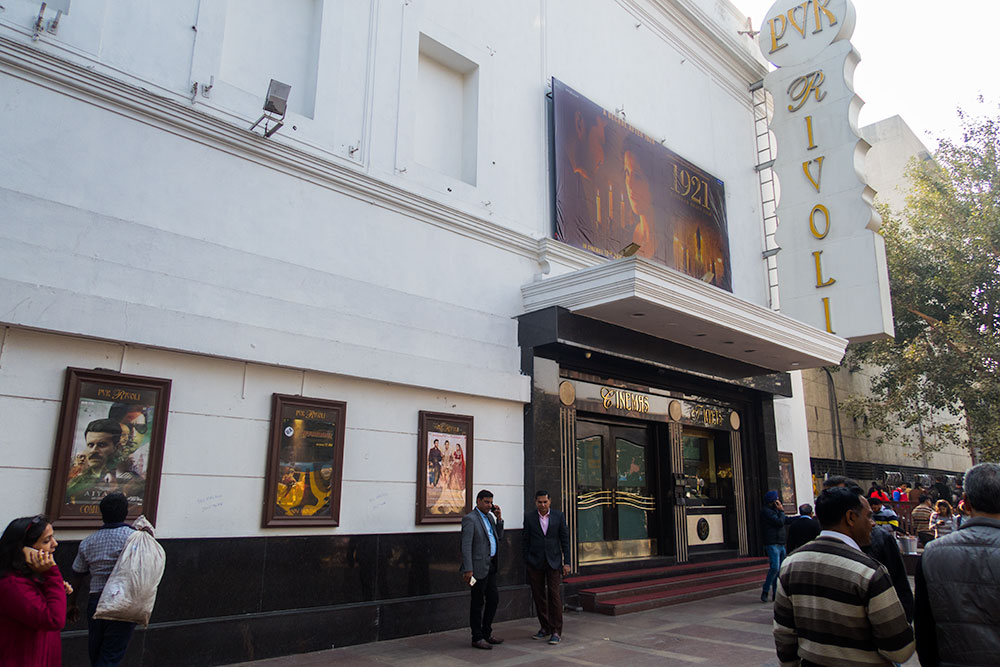 At the beginning of the cinema ages in India, you could see, not Bollywood movies, but Urdu Plays, Russian Ballet or silent film. Only a few years later, Hollywood and Bollywood movies appear.
So, if you want to try and see a Bollywood movie, here is the place to go.
6. Dhoomimal Art Centre
Even though it was built during the 30s, it's the oldest gallery in India, that is dedicated to contemporary art.
To spend a good time, head to Dhoomimal Art Center during the evening and enjoy some music moments and get to know some of the contemporary artists in India.
7. Art Today
One of the best places in Old Delhi to get to know more about modern culture in India.
Art Today is a gallery located in Connaught Place and is a place where you can know some new Indian artists, like painters or sculptors.
ICCR (Indian Council for Cultural Relations) Auditorium
Come to ICCR and get to know some of the culture, not only related to India but the relation of India with all countries in the world.
Here you can see events originated from all across India, and some international performances.
Places to Eat in Connaught Place
If at some point you see a large gathering of people happily eating and drinking.
It's the famous pastry shop at Wenger's, and just aside is the Shake Square (Old Keventers), the best place in Connaught Place to try some fantastic mutton patties in the oldest bakery in Delhi accompanied by an excellent shake.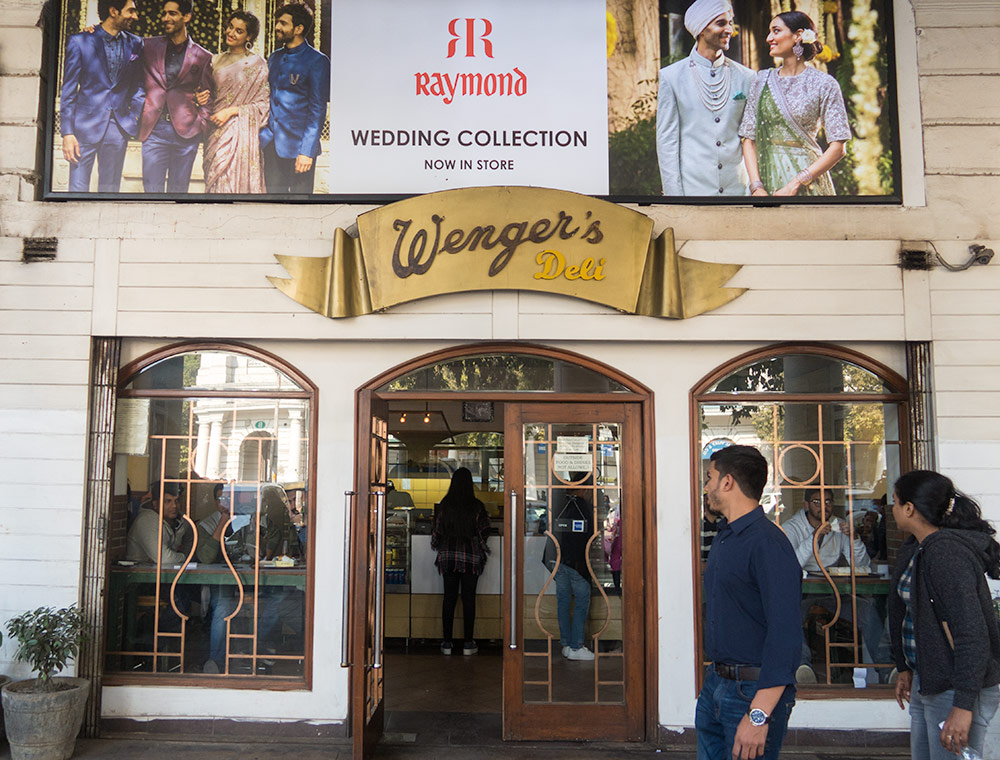 Located in the A Block 16 inner circle, Wenger's was built by a Swiss couple in the year of 1926. After Wenger's, a few doors ahead, try the Shake Square. Leaving Connaught Place without striving these fantastic milkshakes, it just isn't right.
What you're seeing is the tastiest sweet shakes in Delhi. With or no ice (much better with), many locals testify this as being the best place, for the rhythm of bottles coming and going.
For my favorite suggestion, try the coffee shake with ice-cream (125INR).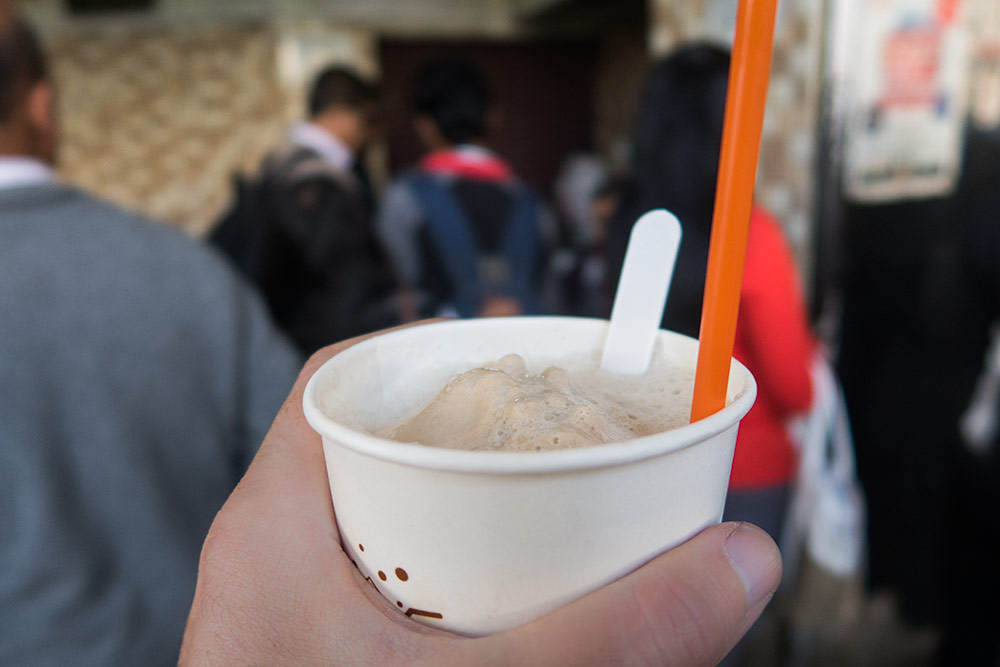 If you are looking to eat some delicious double egg chicken roll, try Nizam's Cafe. It's a nice place to have lunch or dinner.
If you are looking to relax a bit, you should try this Indian Coffee House. Located on the second floor of the Mohan Singh Palace, a shopping place dedicated mostly to selling fabrics, clothing, and suits.
The coffee place is on the last floor, and it's with it on the summer when they put the tables outside. In the rest of the year, only tables inside, but still a calm and relaxing to spend some time, drinking chai or a ginger lemon honey tea.
If not for something specific to eat or drink, the view from the balcony it's quite impressive.
For a more classic mood, you can't miss the 1942 United Coffee House. A high-end restaurant or bar, perfect to escape from the crazy streets of Delhi, enjoy a cool fancy dinner or lunch, drink some Kingfisher beer, or take some of their traditional coffee.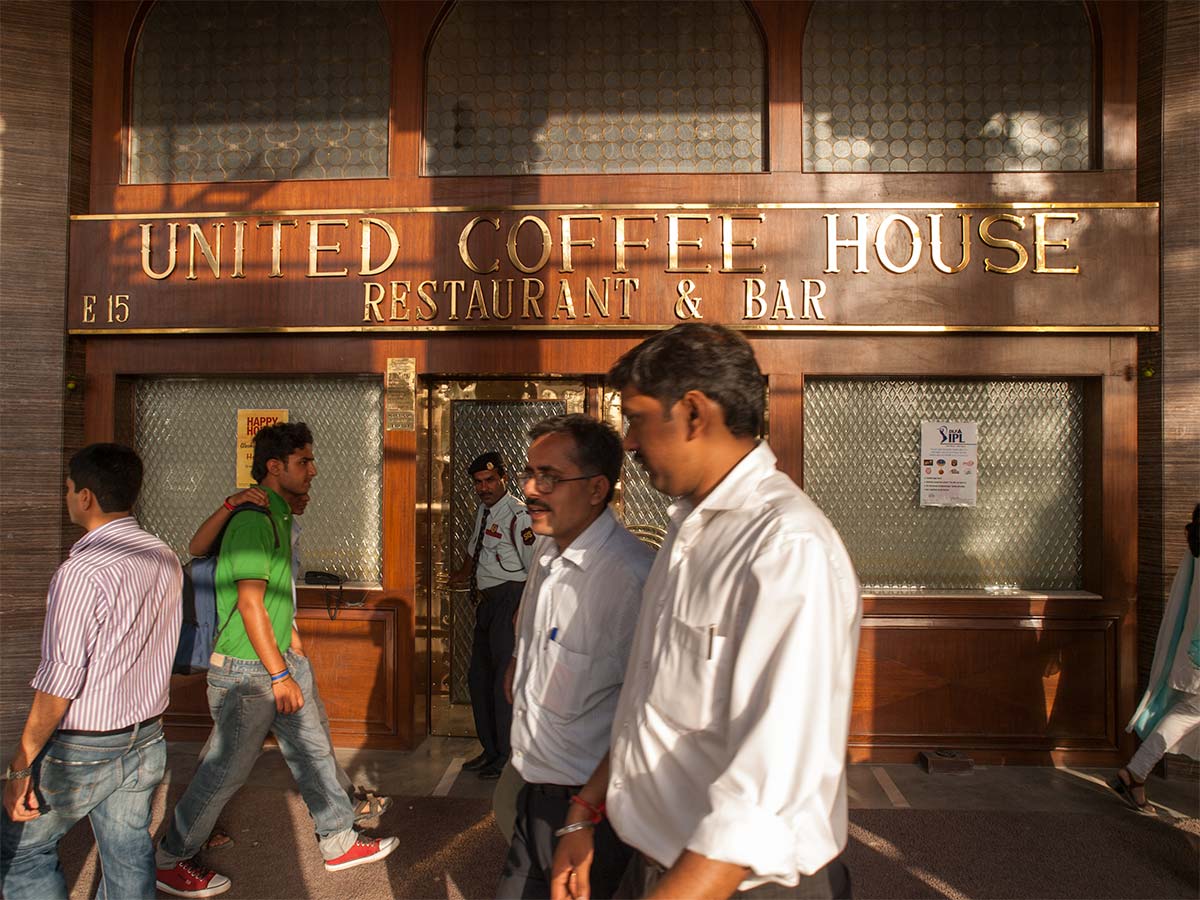 Shopping in Connaught Place
Connaught Place is also known for its shops selling some expensive brands, but there are other cheap places that you should take a look.
Palika Bazaar is without a doubt a completely different shopping place you will find in Connaught Place. It's an underground market where you can buy all kinds of clothing, bags, shoes or sneakers, suits, sunglasses, leather jackets, and much more.
If you have in Connaught Place many of the most stylish big brands, not only from India but from all over the world, in Palika Bazaar you have all the other brands, and some fake ones. It's worthwhile to visit Palika Bazaar and see all the cheap stuff they have to sell.
Like in any other part of India, here you have to bargain very hard to get to your price.
To buy some toys for your kids or nephews, just go to Ram Chander & Sons, the oldest Toyshop in all India. It exists since the 30's, so for sure this place saw Connaught Place evolving. It's impossible not stopping her, see this vintage shop and, maybe buy some toy for yourself.
Places to Stay in Connaught Place
There are many hotels in Connaught Place for all kinds of prices. Being a central place in Old Delhi, close to many temples, bazaars and, of course, Connaught Place itself, is one of the favorite zones for backpackers.
On this article, we have our suggestions of places we stayed in Delhi in the past years, including one specific hotel in Connaught Place.
More like a Guesthouse, is open 24/7, and have a perfect environment for backpackers.
Some common scams in Connaught Place
While walking in Connaught Place, be prepared for fake friends and false helpers. There are in every part of the interior ring of Connaught Place watching for tourists.
They look like ordinary Indian people, also walking in Connaught Place. Whether you go to them to ask for some information or they go to you in a very common is to engage in a friendly conversation with you asking your name and where are you from.
In both situations expect for wrong information given by them to lure you to more expensive shops in the area. Don't think of them as liars to something terrible, but more direct marketers using all kinds of tools they have to take you to the shop they want.
Imagine that you are in Connaught Place and you ask a rickshaw driver to take you to Old Delhi markets to buy some spices.
The driver will answer something like "Oh, today market is closed. You have bad luck. Maybe tomorrow". Then, even if you don't trust it, you ask someone around there: "Is it true the markets in Old Delhi are closed today?".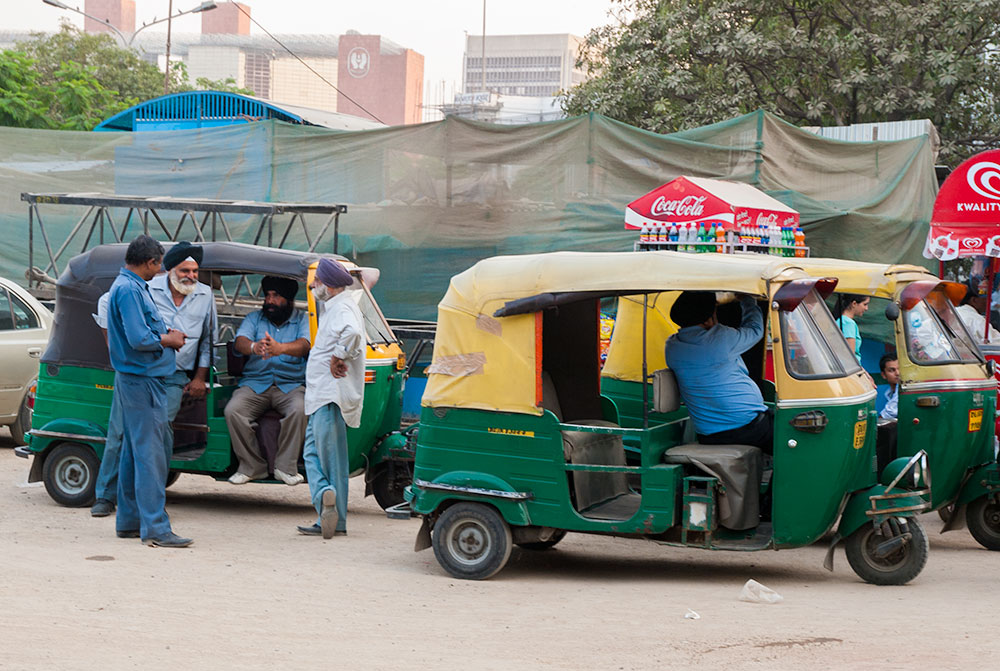 He will answer something like: "Yes, is true. Today is the day off for markets in Old Delhi. But you have some cool shops around here, where you can buy better spices, stating even that these are much better for your stomach because they are not exposed to sun and dust every day".
It seems like a logical argument, even talking about the stomach problems of many foreigners might relate to you. But it is all bullshit. They'll advice a shop, "… Something Emporium" where you can buy good souvenirs and all the spices you are looking for.
If you have time, check with your own eyes. They won't kidnap you for some spices. The kind of store they advice is not bad. In fact, the shop is excellent, but you will end up buying the same type of spices in a golden bag, three times the price.
When something like this happens, remember, Old Delhi's Bazaars close only on Sunday. The rest of the days are open.
So, avoid trusting anyone you find in the street. Always double check the info.