1. Summary
Visa on Arrival: yes;
Documentation

Passport valid for more than 6 months at the time of application;
1 free white paper on your passport;
2 recent photos facing front;
2 more extra photos for possible visa extensions;

Price for Multiple-entry:

$25 (15 days);
$40 (30 days);
$100 (90 days);

Take money with you (Dollars or Euros) ;
Eligibility: 6 months (starts on the first-day issue);
Get an updated information at Nepal Immigration Website;
2. Nepal visa application policy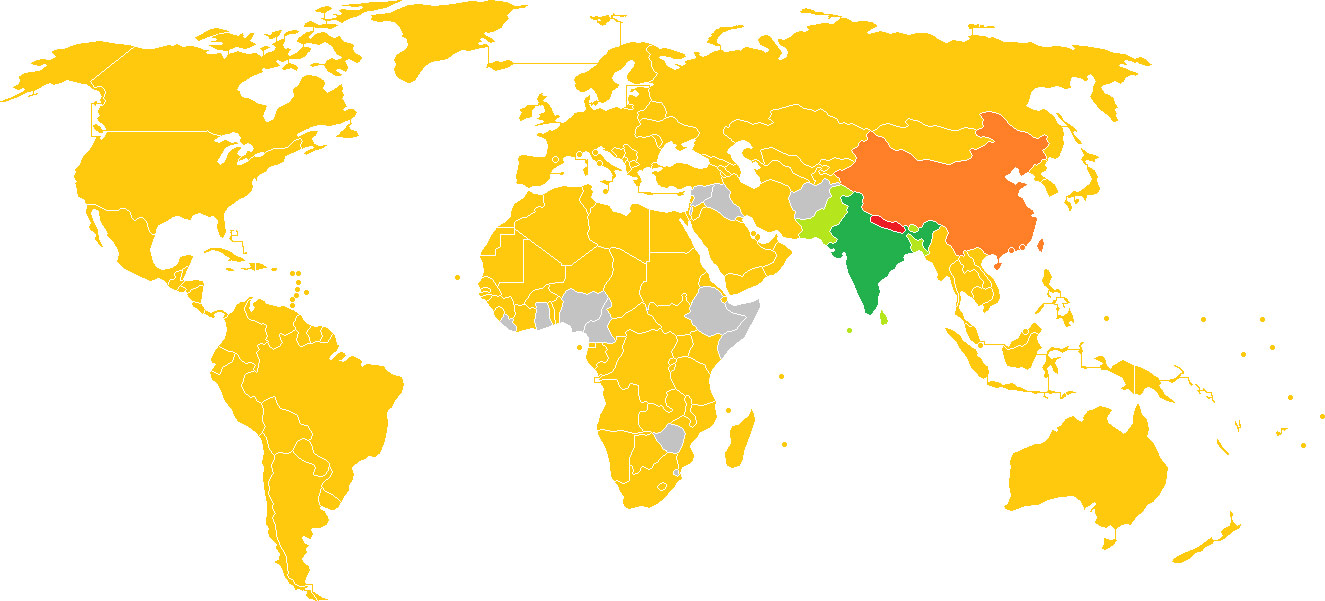 VISA ON ARRIVAL
Free of charge
Free of charge for tourists
Visa fee required
---
3. Nepal visa on Arrival
Applying for a tourist visa in Nepal is a straightforward process since it's available the option of Visa on Arrival. That means that you can get your tourist visa when you arrive at:
Tribhubhan International Airport (TIA), Kathmandu ;
Kakarbhitta ;
Birgunj ;
Belhiya, Bhairahawa ;
Nepalgunj ;
Dhangadi ;
Mahendranagar ;
Kodari ;
If you go by plane to Tribhubhan International Airport at Kathmandu, use one of the machines you'll find to fill your data. In the end, you will get a receipt.
After, fill the visa form requirement by hand (take a pen with you), and you're set to pay and leave the airport.
You can also download the visa form in the UK Nepalese Embassy website and fill it on the plane.
The price for the Nepal visa application goes from $25 to $100, depending on the number of days you stay in Nepal.
If you plan a visit to other countries like India or Tibet (China), you could and should ask for a multiple-entry visa upfront. Or if you already have the single entry one, you can change it for around $20.
Make sure you take US Dollars or Euro money because you cannot use a credit card or checks to pay for your visa.
If you stay more days that you asked for your Visa and didn't ask for an extension, you'll end up paying $3 per each day plus $2 fee for the extension.
It's not expensive but is better to plan the number of days you are willing to stay in Nepal.
4. Nepal Visa for US Citizens
If you are a US Citizen looking to travel to Nepal, relax about applying for Visa, because, for most nationalities, including for US Citizens, Nepal has Visa on Arrival.
Just have your passport valid, take some photos with you, money for Visa, and you will be alright.
5. Nepal Visa Extension
If you want to stay more days in Nepal than you thought, you can ask for an extension.
For that, you'll need one more photo, and it will cost you $30 for 15 days or $50 for 30 days. You can get the visa extension at Kathmandu and Pokhara Immigration Office.
The maximum days you're allowed to stay in Nepal with a tourist visa is 150 days. After that, you will be invited to leave the country.
HappyTravels!